Hanzo Spotlight+ brings AI-powered data enrichment to early case assessment to reduce risk and more efficiently identify critical data for investigations within collaboration applications. 
Hanzo, a provider of enterprise solutions for legal, governance, and compliance teams announces Spotlight+,  a new add-on data intelligence layer in Hanzo Illuminate. Hanzo's Illuminate is the industry's first intelligent collection and culling solution empowering ediscovery teams to tame high volumes of complex enterprise collaboration data effectively. From pre-collection through early case assessment, Illuminate provides best-in-class defensibility and productivity-enhancing insights so organizations can proactively manage risk.
Hanzo solutions address the unprecedented challenges large enterprises face post-pandemic of massive volumes of highly complex collaboration data. In the last two years, Hanzo has seen data associated with collaboration communications grow exponentially. This reality has changed the conversation from defensibly preserving information to a requirement of cost-effectively controlling data volumes, managing complexity, and, most notably, getting rapid insights for investigations and informed case strategy.
"It's not uncommon for large organizations to have to make sense of thousands of channels and millions of messages," commented Dave Ruel, VP of Product at Hanzo. "We're embedding AI in Illuminate and adding categorization libraries that can rapidly analyze massive repositories of data, documents, and other artifacts, which will help enterprises more easily discover, classify, and protect sensitive data stored within cloud applications such as Microsoft Teams, Slack, Google Workspace and more." 
Hanzo Spotlight+ is a data intelligence layer that helps users visualize data, offering large enterprises the scalability necessary to manage early case assessment of collaboration data efficiently. The AI-powered data enhancement automates the detection of PII, toxicity, unwanted behaviors, and more. Customers can rapidly filter using facets to pinpoint sensitive information and discover specific classifications during early case assessment for rapid insights into the data before export and outside counsel review. By providing quick and accurate messages and file intelligence of collected content, enterprise legal teams have the information necessary to support internal investigations or ediscovery matters.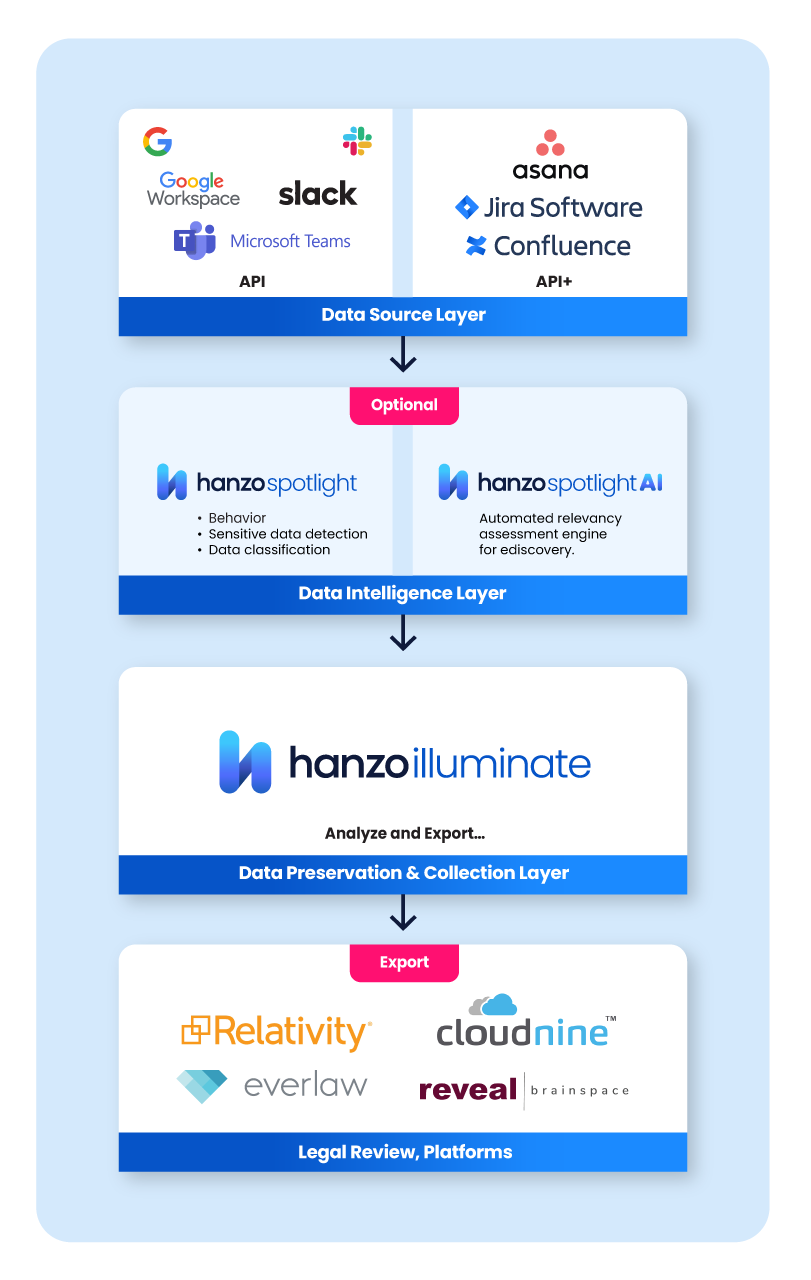 Illuminate your data journey. From start to finish, better data insights = better decisions.
"Enterprises across many industries are accelerating the adoption of collaboration applications. Yet, many don't have solutions to govern this data, discover insights from it, and reliably preserve it to meet their legal and regulatory requirements," said, Ruel. "Hanzo's is pleased to bring smarter collection solutions and proven and scaleable AI to manage the ever-growing risk associated with short-message business communications."
To learn more about Hanzo's Spotlight+ during Legalweek, please visit Hanzo's Booth 2123 or schedule a meeting with the team to see a demo.
About Hanzo
Hanzo helps global enterprises manage and reduce legal risk wherever work gets done. Our vision is to provide enterprises with a single source of truth for their complex communications data. Hanzo solutions capture investigations, litigation, and compliance data from wherever employees collaborate — efficiently tackling the massive volume and unique complexities that emerging data sources present. Hanzo's software empowers defensible preservation, targeted collection, and efficient review of dynamic content. Hanzo is SOC 2® Type 2 certified, demonstrating its commitment to data security and serving large corporations worldwide. Learn more at hanzo.co and follow updates on Twitter: @gethanzo or on LinkedIn.
Contact
Sarena Regazzoni
Senior Director of Communications
Hanzo
503-407-4208
https://www.theedgeroom.com/wp-content/uploads/2023/01/edge-room-updated-1.png
0
0
sarena@hanzoarchives.com
https://www.theedgeroom.com/wp-content/uploads/2023/01/edge-room-updated-1.png
sarena@hanzoarchives.com
2023-03-21 08:15:13
2023-03-21 08:15:13
Hanzo announces Spotlight+, AI-powered data enrichment for ECA and efficient culling. Reduce risk and identify critical data from collaboration data.